Your Perfect Fit
Our expert alterations team works with you to perfectly tailor your gown to fit your body and style. We work closely with a number of bridal shops in Chicago and are familiar with all major bridal designers nationwide. We have expertise working on a wide variety of styles, intricate and delicate materials, and body shapes and sizes.
"These people are AMAZING at what they do. I brought in my dress knowing it didn't fit exactly right, but with no real idea of what needed to be done. They walked me through every step of what needed to be altered, and made suggestions for what would be optional enhancements. After two fittings, the dress fits perfectly and best of all I don't need a bra. What's more is that they are incredibly kind and thoughtful people. Kpoene and her team are wonderful to work with - I can't recommend them enough!"—Jessie D.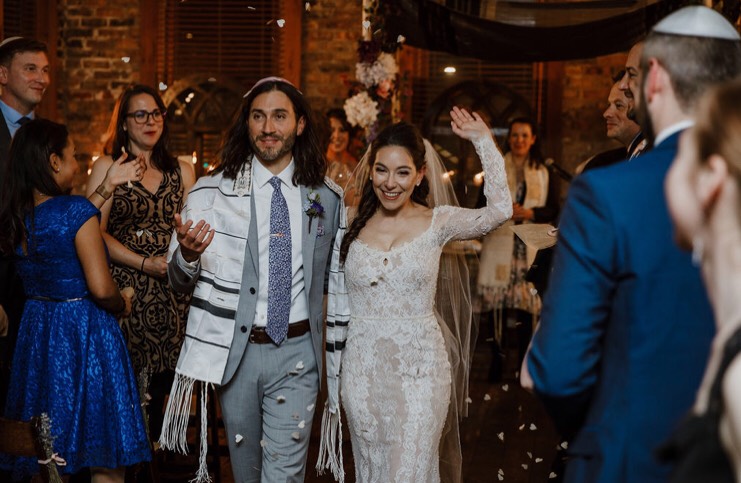 "These women. They are truly amazing. I bought my dress on tradesy and it definitely needed a bit of love. It was too big, I had purchased straps to put on it and it was a bit flat. Instead of drastically upselling me, they suggested I get a crinoline. They tailored the dress perfectly and I never felt in danger of it not looking good or of it falling off. Ariana was a joy and I LOVED working with her."—Milan C.
"My experience with the ladies at Ette was nothing short of amazing. I honestly feel like words can't describe how wonderful I felt in my dress, the look on my face all night shows even more than I could express! I fell in love with my dress when I tried it on at BHLDN, and fell even more in love with it after it was tailored to fit me perfectly.
I had the pleasure of working with Ariana throughout the entire process, and she was better than I could have ever imagined. I wasn't exactly sure what I needed done, except for taking out the armpit area a bit. But once the dress was on Ariana knew exactly what to do. From setting up appointments to adding on last minute veil ideas (fixing my mom's veil), they made everything super easy for me I'm so thankful for that. I have been yelling Ette and Ariana's name from the roof tops since having my dress fitted here and will continue to do so forever! Also, the space is super cute!!"—Whitney S.